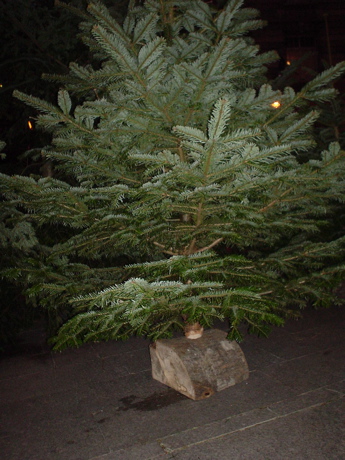 As the subject line indicates, I have some random questions about France: specifically French Christmas trees. I've noticed that trees are sold sort of stuck into half a log of a larger tree. When people take their trees home, do they leave them this way or do they transfer them to water-containing christmas tree stands? If so, where would one buy said stands? If not, do they put the whole tree bottom in a bucket? How are trees watered? If trees are not watered, how do people keep them from catching fire? Do people just leave their trees up for a few days in that case?
In the US, there are always major warnings about tree fires, but people there tend to leave their trees up for 6 weeks and they're not very fresh when they get them. My family always went to tree farms and sawed down a tree, so it was very fresh and I remember that when we got it home, we would bolt it into a tree stand and start it off initially with aspirin and coffee. I think I would need aspirin and some coffee too, if I had just been sawed down. Apparently, the same properties that make both those things good for headaches are also good for keeping sap vessels open, so the tree can absorb a lot of water and not dry out.
The last couple of years, I had a live tree in a pot, because I felt kind of guilty about sawing one down and killing it, but then I killed my potted tree anyway. It's not like all the paper that I use is 100% recycled. So tree death is a part of life.